Which are the advantages and disadvantages of a Kanban PULL System or Kanban PULL control System in comparison with a typical ERP/-MRP PUSH System?
Today's customer demand for innovative products with high quality at a low price, is only one part of the actual market demands. In addition, a high delivery reliability,  short delivery times, combined with strong flexibility are also demanded. In order to meet these requirements, companies must organize themselves accordingly nowadays.
The areas of production and logistics play a central role. A decisive factor for the optimization of the overall system is the fast and flexible production based on real customer demand. For this purpose a PULL system offers significant advantages over the traditional PUSH control.
In the context of this Pull Process, Kanban is often used element  to control the flow of materials. Because a comprehensive manual kanban system, in which perhaps external suppliers are being connected, can quickly become confusing and prone to error, the electronic kanban system (e-kanban) can be recommended  to support and optimize the processes.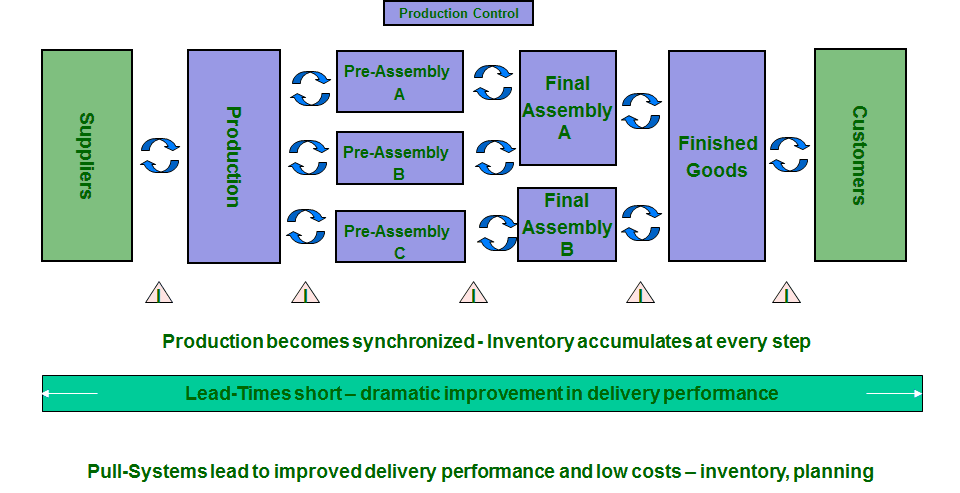 Please imagine, that the production processes in your company will be controlled by themselves by simple visual methods and rules, without use of central planning and control of a big and complex MRP-/ERP systems or other SCM software.
Small stocks with high availability and quality – unthinkable?
Many world-class companies have proven that consumption based processes can be realized through Kanban and not only in mass production efficiently.
Unfortunately, a purely manual pull system reaches its limits very quickly, what can be identified as a clear disadvantage.
By the software and technical support of the processes and facilitated daily management of the entire Kanban system, the efforts of the responsible employees can be reduced significantly, thus the processes are more transparent and safer. Due to the versatility of the visualization and targeted evaluations, the processes and the whole system can be noticeable and continuously improved.
Thus, e-Kanban is an important tool for companies that want to achieve a consistent pull system.
Top e-Kanban advantage: eKanban offers a great versatility and scope of processes in order to create clear, transparent and flexible processes and to improve the whole system continuously. The transition from complex forecast-based planning systems to a simple but highly flexible e-Kanban system with integrated performance measurement opens up a new dimensions in production control.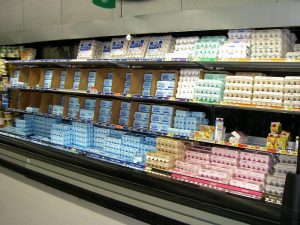 Simplicity is the key to allow not only the identification of the employees with the production processes in a closer manner. It is important, above all, the transparency in the processes in order to make continuous optimization possible. In complex processes, the fear of change is often very large.
Further e-Kanban advantage: an e-Kanban driven pull system can be adjusted continuously and improved based on a so-called PDCA (Plan-Do-Check-Act) cycle as long as such pull system is being used everywhere.
Thus electronic kanban becomes a strong universal tool for all lean production activities of the future and to ensure the long-term competitiveness of your company!
++ KANBAN ONLINE PORTALS AVAILABLE ++
IKS – Integrated Kanban System
Best electronic Kanban – made by real Kanban Experts
Learn more about e-KANBAN System IKS on: www.e-kanban.com
SMART KANBAN
The cost efficient solution for Kanban introduction – optimized for pure manual Kanban
Learn more about SMART KANBAN on: www.kanban-system.com