The IKS KANBAN WEB PORTAL is also an add-on module which allows the Kanban integration of suppliers, customers or external sites through the web.
The IKS base system already offers the possibility to integrate the external suppliers via email and / or fax into the Kanban processes. The IKS Kanban Web Portal represents an interesting alternative to the classical process and offers many other valuable possibilities to employ an interactive Supplier Kanban process.
Through the IKS Kanban Web Portal, an external supplier or employees at another company location can access all relevant Kanban data in real time. As a result of this, real-time information flows can be implemented, which provide huge benefits and savings!
One highlight is the electronic Kanban board, which is part of the IKS Kanban web portal and allows the dynamic visualization of the Kanban orders to a supplier. As a result, modern concepts, such as vendor-managed inventory, can be implemented quickly and easily!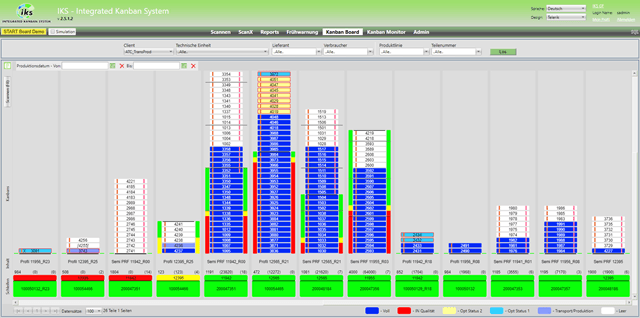 The IKS Kanban Web Portal offers the following features:
Real time execution
The easiest possible visualization of the Kanban, which the supplier has to deliver as next
Print the original Kanban cards on the side of suppliers
Scanning of the Kanban cards on the side of the supplier (e.g. into Transport)
Message communications by the supplier
e-Kanban board for dynamic Kanban control
Early warning system to detect material shortages
Comprehensive reporting
Easy administration of new suppliers and users
and much more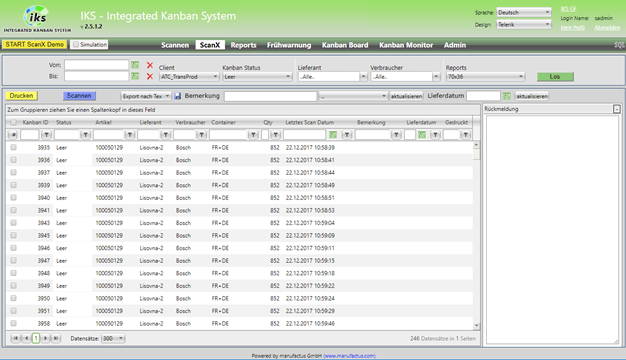 IKS Kanban Modules

Click on the desired topic to learn more.