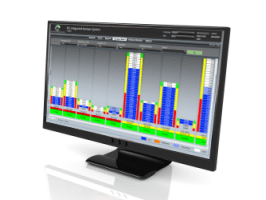 The electronic Kanban Board / Heijunca Board is an add-on module of the IKS base system, it allows an efficient dynamic control of production processes based on the PULL principle.
In production areas, working with a kanban system control, especially in machine-intensive production, the so-called "traffic-light-Kanban" can be used. To visualize the Kanban orders, very often classical kanban planning boards are in usage.
For each item, a green, yellow and red area is calculated upfront. Afterwards the consumed kanban cards will be put into the panel manually by hand, in order to visualize the volume of orders at the source to the shop-flor people.
Even if the basic principle is quite simple, manual kanban boards have significant disadvantages:
they are difficult to handle when many items are to be produced  at a source
error-proneness of  incorrectly inserted Kanban cards
inaccurate prioritization of Kanban items (what to produce next?)
slow flow of information, as the result of manual transmission of Kanban signals
almost impossible to incorporate additional criteria for local optimization in the control
An electronic kanban board like the IKS e-Kanban Board can eliminate these vulnerabilities and apply the benefits of Kanban control in production (production Kanban).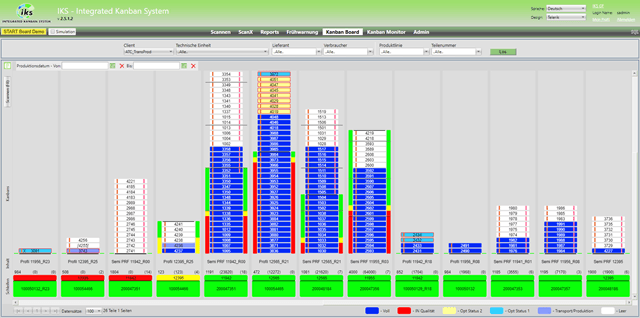 In this case, the same principle is being used, but all information is visualized in real time, which allows dynamic prioritization changes. When you combine this principle in the next step with the manufactus e-Kanban processes, very simple but highly efficient processes can be realized to enable a "real" PULL control of your production.
The benefits of the electronic Kanban Board:
No manual Kanban boards, thus elimination of falsely inserted cards
Control of hundreds of Kanban loops simultaneously
Simple visualisation of all Kanban loops and inventory for the selected source in real time
Automatic and dynamic prioritization of Kanban orders
Quick overview and instant visualisation of what to produce next
Local optimization of production units through special filter criteria
Print Kanban cards only on demand
Scanning of Kanbans directly via e-Kanban board
no need to build or extend larger manual Kanban boards
With the web version of the Kanban board, you can also integrate your suppliers and customers, so that external suppliers can gain access to the Kanban board overview.
The latest highlight of IKS Kanban board is the new visualization of the Heijunka sequence of Kanban loops.
IKS Kanban Modules

Click on the desired topic to learn more.