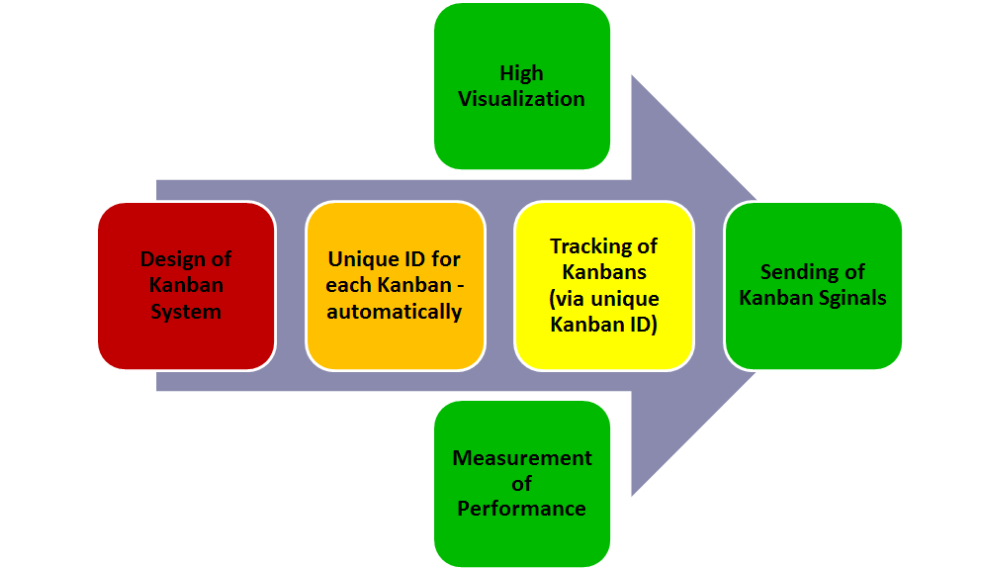 What is the Integrated Kanban System (IKS)?
The e-Kanban System IKS is a very easy to use inventory replenishment solution to support manual Kanban Systems and to start with electronic Kanban as one important part of lean manufacturing activities.
IKS enables to implement a complete Kanban Pull System (Sistema Kanban) in your whole supply chain processes with the help of the Kanban principles – starting with your suppliers, making production and deliveries to your customers
IKS knows everything about your Items, which parts need to be produced (production Kanban), how often they move (consumption, ITO, …) where they currently are (inventory management, inventory replenishment), everything is available and visible at once by simply pushing a button.
IKS is not only a lean manufacturing software to calculate Kanbans and to print the cards, it helps a lot to make your Kanban logistics processes easier, faster and more stable, by gaining maximum transparency and highest visibility !!
How does the IKS Kanban System work?
IKS is based on capturing of Kanban movements (usually, by scanning the kanban cards via barcode reader or RFID chip)
IKS records the movements of each single kanban (there are different states such as EMPTY, IN PRODUCTION, IN TRANSPORT, FULL, …)
IKS enables a) a continuous visualization, b) automatic sending of kanban signals, c) the measurement of performance of the Kanban system (and thus a continuous inventory optimization)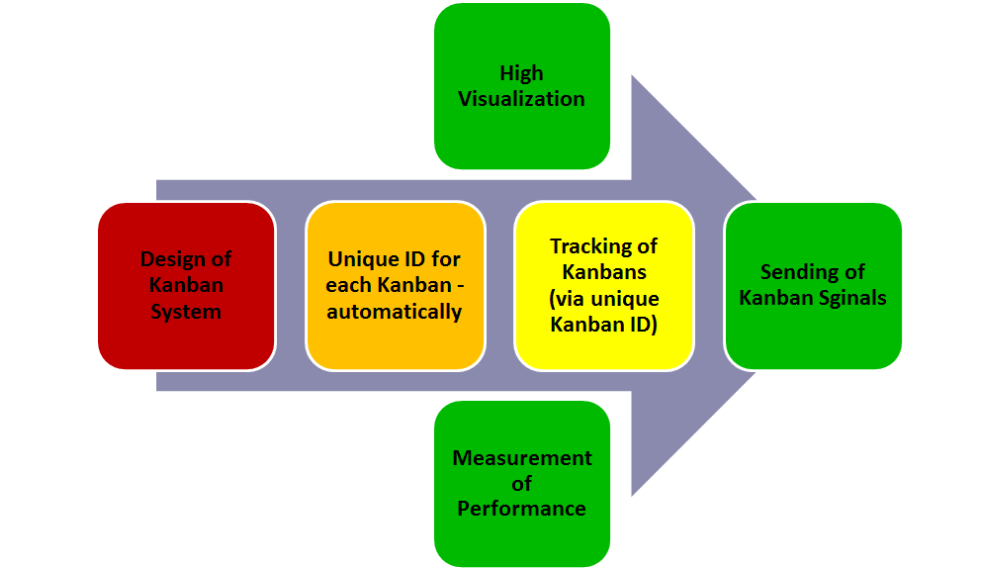 What types of Kanban are supported by the IKS Kanban System?
IKS helps to connect external suppliers, customers or other sites
IKS can help you with efficient production control
IKS controls your processes for transport and finished goods

What can the IKS Kanban System do for you?
Management of all Kanban Data and Kanban Loops
Help to calculate the amount of Kanbans needed
Fast Kanban card printing (individual Kanban card Layouts and shelf labels)
Tracking of Kanban movements with standard barcode readers
Monitoring of the actual and historical Kanban situation (Inventory, empty Kanbans, Kanbans in transport etc.)
Dynamic electronic Kanban Board for visualization and prioritizing the Kanban orders in real-time (answers the question what needs to be produced next?)
Connects your Suppliers with Fax or E-Mail
Web-Portal to connect suppliers, different sites, external warehouses or customers through the Internet
Universal interface to existing ERP-Systems
Management of demand peaks and fast adaption of the amount of Kanbans
Various functions to support the Kanban processes in a better way (missing cards,…)
Early Warning System to detect material shortages and and late deliveries
Analysis of inventory replenishment and consumption based on demand and historical transactions
Analysis of lead times based on historical transactions
Kanban calculation based on demand plans and bill of material (BOM)
What are the strengths of the IKS Kanban System?
Easy to manage all Kanban Data and very user friendly
Fast implementation and low training effort needed
Support of all types of Kanban for best inventory optimization
Extensive functions realized based on the experience of Lean Experts
High flexibility in configuring your individual processes of inventory replenishment
Fast implementation of individual customer requirements
By implementing a Kanban System (Sistema Kanban) with IKS support, the following results have been achieved by our customers:
Reduction of inventory about 20 – 80%
Reduction of lead times about 10 – 90%
Increasing of Inventory Turns about 30 – 100%
Increasing of delivery reliability up to > 98%
Reduction of needed floor space about 10 – 80%
Increasing of material availability up to 100%
Reduction of line-stoppages down to 0%
Increasing of productivity about 10 – 50%
Kanban implementation made easy, click here to go to the Kanban workshops.
++ KANBAN ONLINE PORTAL ++
IKS – Integrated Kanban System
Best electronic Kanban – made by real Kanban Experts
Learn more about e-KANBAN System IKS on: www.e-kanban.com
IKS – The solution for a successful e-KANBAN implementation



Click on the desired topic to learn more.