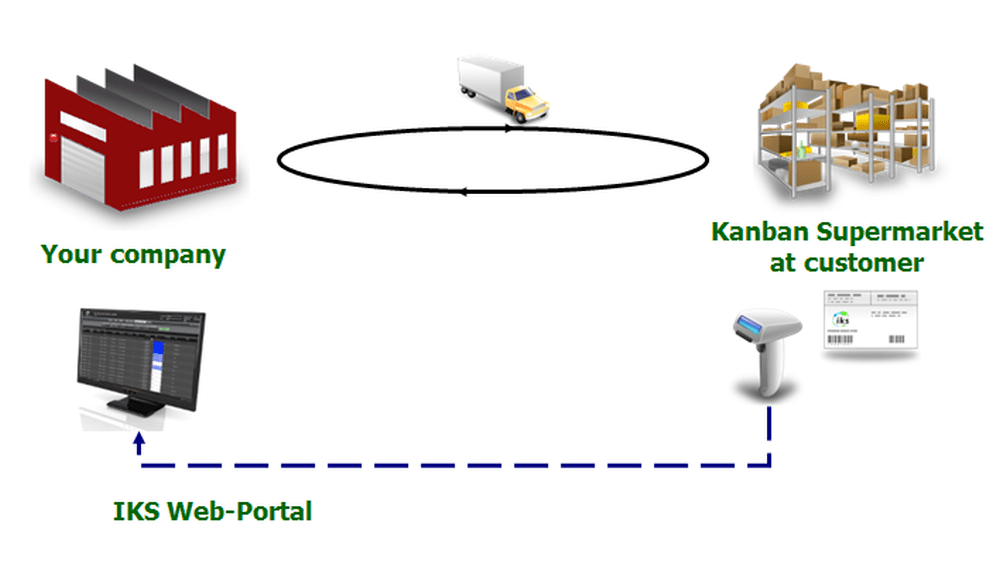 A customer Kanban process can be defined as a supply of customers through a Kanban system. In this case, a kanban supermarket (storage, shelves, …) is built at the customer site, from which the required items can be removed. If a Kanban container gets empty, the client sends a kanban signal, so that the supermarket will be replenished.
A common application for a customer Kanban system is the supply of so-called C-parts (DIN and standard parts such as screws, nuts and other small parts, etc.). In this case the supplier of C-parts offers replenishment of the Kanban supermarket as a service.
Beside FAX and Email, our e-Kanban System IKS also allows electronic transmission of kanban signals over the IKS Kanban Web Portal online via Internet.
Now the customer only needs to capture its demand by simply using a normal bar code scanner for example, which triggers very simple and transparent processes for replenishment.
Further Kanban processes

Click on the desired Kanban process to learn more.