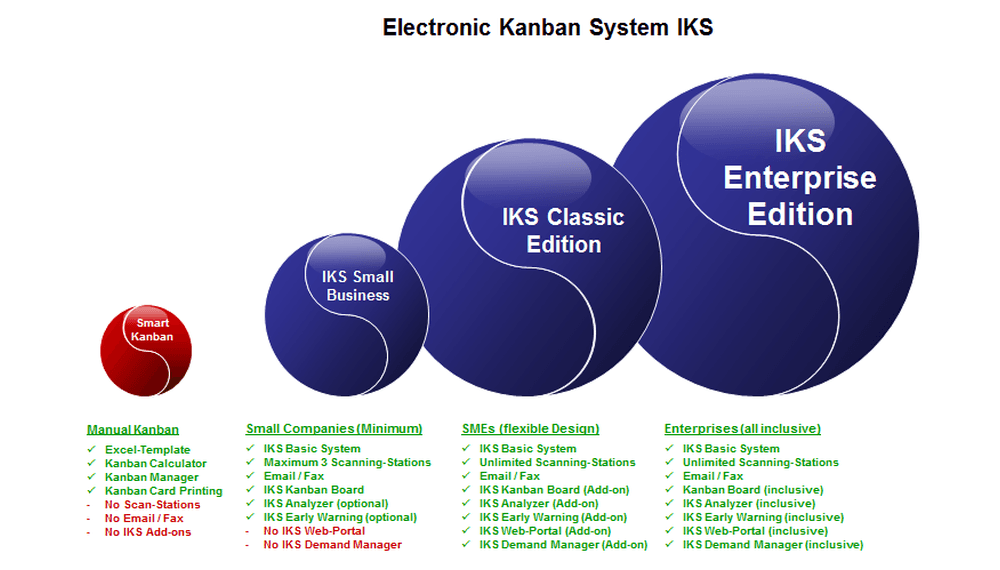 IKS (Integrated Kanban System) is available in three e-Kanban solutions:
IKS Small Business Kanban Solution – for small companies and manageable areas
IKS Classic Kanban Solution – build the best e-Kanban system (base system and add-on modules)
IKS Enterprise Kanban Solution – the "all inclusive" solution
IKS SMALL BUSINESS KANBAN SOLUTION
This edition is especially designed for small businesses and manageable areas.
The "smallest" version of our e-Kanban system IKS contains the complete base system, Kanban loops can be created internally as well as externally to your suppliers. Only the number of scanning stations is limited to 3. Thus we are able to offer a cost-effective package for small businesses or let`s say "e-Kanban Beginners".
The IKS Small Business Kanban Solution contains:
the complete Kanban Management
printing of Kanban cards
scanning the Kanban movements
various visualizations and reports
data exchange to the host system
connecting external suppliers via e-mail and fax
IKS CLASSIC KANBAN SOLUTION
This edition is the classic version for midsize companies to build the system step by step.
In addition to the IKS Small Business Kanban Solution, you will get an unlimited number of scanning stations. Further on various add-on modules are available to make your processes more efficient. These IKS add-on modules are:
These add-on modules can be combined flexible as well as added afterwards at any time to your IKS package.
The great advantage for you: Build your very flexible e-Kanban system step by step to improve your processes continuously!
IKS ENTERPRISE KANBAN SOLUTION
This package is mainly designed for large companies and very large kanban systems.
With this edition, you will get the IKS "carefree package". It contains all available modules and IKS has no restriction regarding the number of scanning stations or users.
Thus you have the opportunity to offer uniform support to your internal processes and to build your supply chain without any restrictions!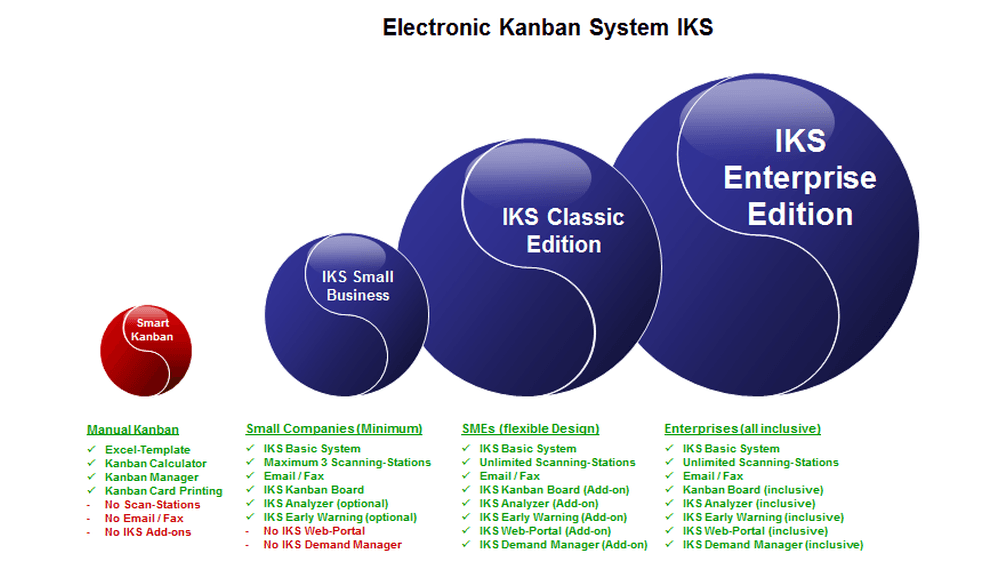 ++ KANBAN ONLINE PORTAL ++
IKS – Integrated Kanban System
Best electronic Kanban – made by real Kanban Experts
Learn more about e-KANBAN System IKS on: www.e-kanban.com
IKS – The solution for a successful e-KANBAN implementation



Click on the desired topic to learn more.